This month I managed to read 15 novels – it should be jumping in numbers now that judging has begun! Below I'll list the novels read for my part in judging the fantasy novel category in the Aurealis Awards which I'm not able to discuss, then below shall carry on as normal for books I've read for enjoyment or review.
Novels read for Aurealis Judging
Demon Dei (Night Call, #2) by L.J. Hayward
The Eternity Gate (#2 The Timekeepers) by Traci Harding
Wall of Spears (#3 Empire of Bones) by Duncan Lay
Drama Queens and Adult Themes by Kevin Klehr
The Sorcerer's Spell by Dani Kristoff
And now, onto the novels read in September!
Phantazein is an anthology edited by Tehani Wessely, out soon by her small press FableCroft, which I now intern for. Full disclaimer over and that aside as much as possible, I'm impressed by this anthology – so many of these short stories are fantastic and I'd have serious trouble if I had to pick my absolute favourite. You can read my full review here. I hope you'll join us for the book launch at Conflux in Canberra in October!
The Serpent Sea by Martha Wells is another gift from the lovely Tehani, this time for my birthday! This is such an excellent series, with such an excellent cast of characters. Sure, usually you have the main character and then the thugs who hate him for no good reason, etc etc, but in this one the thugs feel real when otherwise you don't know anything about them and they're just cardboard cut outs. This volume was quite an adventure, though I must admit I glossed over some of the fighting scenes towards the end as I just couldn't follow what was happening. I loved it – especially the very end – and hope to read the third this month too!
The Protected by Claire Zorn is a book I instantly snatched up from the bookstore as soon as it was available. When I was a judge for the Children's Book Council 2013/2014, I discovered Claire Zorn through her book 'The Sky so Heavy', which did damn well in the awards. Quite different from her last, this book follows a young girl who gets bullied in school, and is utterly realistic in every way. When her sister dies the bullying stops, but from there on, well, you'll just have to read to find out. What I loved about this book was that the sister wasn't exactly nice. This plot is quite common, but the sister was always so perfect in every way… and in this, she was just a typical older sister who's just as desperate as any other teen to be accepted by her peers. Very, very well written. I'm not a CBCA judge this year, but I expect it to do very well.
The Engines of War by George Mann is a book I received to review, which you can read here. This is quite good, and I think I was a bit harsher than I could have been when I read and reviewed it. Fandom books are always so hard to get right as they have to be perfect to the fandom, but then also be interesting and a bit new and expand on the world – a lot to get right in 200-300 pages. I think in future I need to read these for pleasure rather than reviewing!
Deception by Barry Jonsberg is the second in his Pandora Jones series, which I received to review. You can read my full review here. This is such an interesting series and I can't wait for the third book to come out! What's so interesting about this series is there's so much we don't know – we're left in the dark as much as the characters are.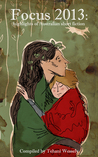 Focus 2013 is another anthology edited by Tehani Wessely, a collection of short stories by Australians that have been shortlisted for, or won awards in 2013. These are always so good, making it easy for people to sample some of the best of the best. It'll be available for purchase early October so don't delay!
Dead Point by Peter Temple is a book I've been meaning to read for years as Temple's earlier books are some of my parents favourites. The recent adaptions for television staring Guy Pearce as Jack Irish have certainly helped that along also. They're quite witty with dry, dark humour, expertly showing Melbourne and football culture. The language in these books is surprisingly beautiful – something that doesn't come across in the tv adaptions.
What If? is a book by Randall Munroe creator of the xkcd, a webcomic you probably know and have heard of. This book collects questions that have been sent to him that he's answered by running computer simulations, sifting over stacks of declassified military research memos, solving differential equations, and consulting with nuclear reactor operators to come up with involved yet likely and explainable answers. Wry humour helps make this assessable, and he also includes some of the crazier, unanswerable questions he's been asked. You can read my review of it right here.
The Scriptlings by Sorin Suciu is a book offered to me to review, and you can read my unfortuantly short review right here – it's just one of those books that's so enjoyable yet written in a way that's hard to flail about – you just struggle to sum it up in words without saying spoilers left, right and centre – other than saying it's quite like Pratchett and Douglas Adams. It's just a whole lot of fun!
Two Hundred and Twenty-One Baker Streets is an anthology edited by David Thomas Moore that I've been looking forward to reading as soon as I saw it up on NetGalley. You can read my review in full right here. Within there were fourteen short stories that had a range of directions and mashups within – futuristic, female Watson, female Holmes, the occult, teenage (and female) Watson and Holmes, and so on. Most were engaging and very well written, and a whole lot of fun for general Sherlock Holmes fans.
~
October's monthly challenge is horror – any suggestions for what I should read?