This month I managed to read 16 novels – it should be jumping in numbers now that judging has begun! Below I'll list the novels read for my part in judging the fantasy novel category in the Aurealis Awards which I'm not able to discuss, then below shall carry on as normal for books I've read for enjoyment or review.
Novels read for Aurealis Judging
Beckoning Blood by Daniel de Lorne
Impossible Magic (#2 The Destiny of Dragons) by J. F. R. Coates
Pickles and Ponies: A Fairy-Tale (#1 Radugan Tales) by Laura May
Allegiance (#2 Betrothed) by Wanda Wiltshire
Evertween by Laila Savolainen
And now, onto the novels read in October!
The Siren Depths by Martha Wells was such a damn good ending to the Books of the Raksura series, and while I know there are more in the same world so I don't really have to get sad, I still am! I loved seeing his journey in particular, and I'm going to miss him as a main character. Same with Jade. She is such an excellent, kickass character. I hope we get to see them again at some stage.
Drowned Vanilla by Livia Day is easily one of my favourite reads for 2014. Smart and sassy and fun, this is everything I love in a book. The characters are so vibrant and relatable – so many of these characters make me think, 'he is EXACTLY like my friend in Brisbane!' and so on. While I don't hate reading crime and do so occasionally, it's not exactly one of the main genre's I turn to when I want a book to read. Livia Day changes all that.
Stories of the Raksura by Martha Wells continues on my current obsession. Short stories that have been printed in a nice book to make them easier to get your hands on, this offers you little bits of backstory and added characterisation for those who just can't let go of this series yet. Like myself. And Tehani.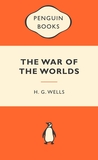 The War of the Worlds by H. G. Wells was a bit disappointing, really. For as much as he's hailed as one of the fathers of the field, I just can't enjoy his work whatever I try. I mean, they're technically good and interesting, it's just also… kinda boring on the other hand. Far too easy to put down, and just all a bit dull!
Goodhouse by Peyton Marshall is SUCH a good book! You can read my review of it over here. Highly recommended, so engaging, so gripping. It's not out until January 2015 – which isn't that far off, really. Where the heck has a the year gone. This is a fairly confronting book, and if you like reading about bleak futures and 'facility' style dystopian-kinda things, this is for you.
The Singing Stones by Margo Lanagan is a book I'm reading for intern-at-FableCroft purposes. Not much else that I can say at this stage other than you'll hear more about it once it's released.
Me Talk Pretty One Day by David Sedaris is a book recommended to me by the aforementioned Margo Lanagan at dinner back in Canberra at the start of the month. This is a kinda memoir where Sedaris rambled about his quirky life and so on. First recommended to me for the bit on how he went about learning a language, something I'm currently struggling with. He's quite amusing and witty throughout, and this was an okay book in all.
Citrine by Marianne de Pierres is another in the Lost Shimmaron series, another I'm reading for intern-at-FableCroft purposes. Not much else that I can say at this stage other than you'll hear more about it once it's released.
The Slow Regard of Silent Things by Patrick Rothfuss is a novella set in his current Kingkiller world, focusing on the character of Auri. Though it has mentions of Kvothe we don't see him, and this is mostly about Auri going about her day, what she thinks and also, how she thinks. It's a bit of an odd novella, and overall… while I like it in many ways, it's not going to be one of my favourite books of the year. It's nice, but it's not as special as I hoped it would be. But it's nice.
More Fool Me by Stephen Fry is another of his memoirs. I was really quite disappointed with book. Fry's previous memoirs have been among my favourites but this one just fell rather flat – it's all a bit mediocre. This book read like it was churned out, rather than written with the intent of something that needed to be said, like his previous in the 'series', as it were. I have a lot of time and respect for Fry, but this book… yeah. Annoying and worrying.

The Strain by Guillermo Del Toro and Chuck Hogan is a book I've been meaning to read since it first came out, and now the tv show has only compounded that. When October's theme was horror it seemed like the time had finally come to read it! This was highly enjoyable – I love seeing how countries and departments try to deal with mass disasters. I loved the mentions of the little offices that exist to deal with not-often-heard-of things, and the characters (though harder to follow in this than they are in the TV show, their names just don't really suit them in book form), were really interesting. Though I note the female hacker from the show isn't in this book.
~
November's monthly challenge is contempory – any suggestions for what I should read?