This month I managed to read 10 novels. What an appalling month. I think reading almost 400 books for Children's Book Council, then however many books for Aurealis, reviewing, and otherwise has finally burnt me out. I have dozens of books I really do want to read – but I try and I fall asleep, or just can't focus.
Did I mention I've been diagnosed with Ross River again? The last few weeks were filled with blood tests and doctors visits, as well as being enrolled in a fairly impressive leaders course through work that's cost my department thousands for me to attend. So that's taken a lot of focus also.
But anyway. I'll catch up to my goodreads challenge eventually. Trying not to worry. This month became an attempt to get reviewing done before I go away in April.
And now, onto the novels read in March!
Firefight by Brandon Sanderson is a review book I had hanging around for ages. For some reason I never manage to review this series in a timely manner, but once I get into it, I can't put it down! You can read my review of it here. I really like the direction this one is going in, and I'm pretty eager for the next book. Third is the charm, right? Hopefully I'll dive right in!

A Darker Shade of Magic by V. E. Schwab is a book I've been eagerly anticipating for ages. I love Schwab's work, and when this started to get pushed and pushed by media and the publisher I began to get a little worried. Sometimes I've noted that books pushed to a certain level by publishers aren't always my cuppa tea.
Thankfully I was pleasantly surprised by this – Schwab never disappoints, I can't wait for the second book, and I already want to re-read this again to see what I could have missed in my blitzy can't-put-this-down read. Highly recommended~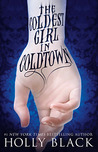 The Coldest Girl in Coldtown by Holly Black is a book I read while trying to get back into a bookclub I love. Sadly, it didn't go too well as I'm the odd one out – I really didn't get into this book at all. I think I was just too anxious to get caught up in my reading in general that I just couldn't give this the attention it deserved and I just couldn't get into the rhythm of the book. A shame, as Black used to be one of my favourite authors.
Insert Title Here edited by Tehani Wessely is the latest anthology out from FableCroft Publishing, where I intern. While I proof-read, I review, so here's a full review short by short, which you can read in full here. And then go out and buy it! It's the darkest anthology they've done yet, and I loved every bit of it. If I had to recommend any anthologies from FableCroft, it would be Phantazein or Insert Title Here, and Cranky Ladies of History for those who don't think they love spec fic – it's an awesome anthology for paving the way in gently with some historical fiction.
Throne of Jade by Naomi Novik is the second in a series Alex got me and Tehani into – however Tehani's read all in the series within a matter of days (it seems, at least) and here I am still chugging along slowly. I love the series though – and this book certainly took us in a direction I wasn't quite expecting.
Corsair by James Cambias was a 100 page preview that I wrote a little about here.
Every Word by Ellie Marney is my review here. I read the first book for Children's Book Council judging, received the third to review and requested the second also so I could read the series properly. I'm glad I did, as I loved this book. The action was excellent, and I really loved how the characters grew and took off in this piece. I do love London which is probably what swayed me also.
Every Move by Ellie Marney is another review book. Sadly, I didn't like this one as much as I did the middle book – so that's a turn up. Didn't love the first or third books, but loved the middle. You can read my review here. (I'm being harsh in this short review, I'm exhausted. It was still quite good, I just enjoyed the middle book more and had high expectations!)
Water So Deep by Nichole Giles is quite a fun book, another I've reviewed because why not. You can read my review here. Though not immediately apparent, this seems to actually be a series. Not sure when the next one is out?
The Disreputable History of Frankie Landau-Banks by E. Lockhart is another review book – you can read my review here. This was a book I devoured in a few hours and really, really enjoyed. This had such a complex yet simple, very interesting protagonist which made it impossible to put down. I can't say I really enjoyed the ending – Lockhart's endings always catch me by surprise somewhat, but it was still dang worth the read.
~
April is going to be taken by up two weeks of travel. I'm off to Perth, then Sydney, Canberra and Brisbane. Swancon (also the Natcon) first, then the Aurealis Awards night, with visiting almost every single friend I have throughout Australia so I highly doubt I'll get much reading done surprisingly. I used to read so much on planes and now it's all about comedy audios and podcasts as I try to doze.