This was a month where I wished I read more often (but somehow managed to read quite a bit in the end) and did a bit of slush reading, bit of editing, and took on being acting manager of Twelfth Planet Press while the boss is on maternity leave. And her baby is SUCH a little cutie! Welcome Master S to the world, I can't wait to meet you next month! (But M will always be the star~)
Onto the novels read in February!
Harry Potter and the Half-blood Prince by J.K. Rowling was read for Bethwyn's read-along, but it was rather hard as it was meant for the previous month, where we lost the amazing Alan Rickman, right when this is essentially Snape's book. It still hasn't really sunk in, and I bet at some stage I'll imdb his name to find which new movies he has coming out soon.
This book was both better and worse than I remember, better in the characters and the changes we really do see thrown at us to see what's coming in the next book, and worse in that this book doesn't feel as free and certainly isn't as contained, as this was what brings us to the finale. Nothing wrong with that, but I would have loved more flashbacks (thought not sure on any justification to make them necessary). Who doesn't want more young Marauders? I'd also have loved to see more of Draco's arc – not as a fangirl in any sense, but because I feel that is quite developed despite the little we see of it.
Roses and Rot by Kat Howard was something I liked the sound of as soon as I read the blurb, and I was glad to see that it both met the mark and exceeded expectations. Neil Gaiman raves about it, if that helps? This is a wonderful novel that's engaging, well written and just lovely. Easily going to remain one of my favourites for 2016.
My review can be found here.
Sharp Edge by Marianne Delacourt was read for editing purposes as it's soon to be published by Alisa and I at Twelfth Planet Press, and I can't say any more of it until we publish – spoilers though, it's really quite excellent!
Love and Romanpunk by Tansy Rayner Roberts was read for  the Journey Through Twelve Planets reading challenge which is hosted here, and was originally read in the year it came out. If anything, it's even better since my first read through, and it's honestly hard to pick which short was my favourite.
My review can be found here.
A Darker Shade of Magic by V. E. Schwab was a re-read along with the twitter hashtag #ADSOMreadalong which has been mostly awesome, timezones aside. Previously read when it came out this was one of my favourite books of the year and it's still just as good, if not better, since then. Lila is amazing. Kell is amazing. Holland and Rhy and Athos and Astrid are amazing. They all are! This is a book where everything and everyone is epic and you want to read fast to get MORE quicker, but need to read slower to take it all in and make it last longer.
Epic, epic author.
Fantasy-Faction Anthology by Marc Aplin is an anthology that combines both fantasy short stories, as well as short essays on various topics such as general advice, the use of elves, historical research and economy building and so on – possibly the first anthology I've read that mixes the two so fluidly.
My review can be found here. Short answer is that I do really recommend it.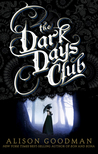 The Dark Days Club by Alison Goodman was really quite epic. I read the start in a sampler at some stage, and then pre-ordered it because I simply had to read the rest. It arrived, and I kept meaning to get to it buuut just didn't get around to it until now. And I loved it! 2017 is far too long to wait for the second novel, but I'm so glad there'll be at least three of them! This regency era book was a whole lot of fun and beautifully written~
Kindred Spirits by Rainbow Rowell was a fun novella to read, and I wish there was more of it! Written about the release of the latest Star Wars movie, this is the kind of life that geeky geeks really get. I've never waited in line overnight (because where I live, I would literally be the only person there), but going to several cons a year and living/breathing general fandom – I know these characters. I am those characters. Loved it!
Eliza Rose by Lucy Worsley was a quick and lovely read, set during the time of Henry VIII and all the awful things he did.
Through this we see why he may have done them, what drove him to act this way, and how it impacted the characters around him. What this book did really well is that there were no heroes or villains – we saw the good and bad side for everyone, and what drove them, what they feared and what upset them.
My review can be found here.
Sidekicks by Will Kostakis was a much anticipated book as I loved The First Third. This one didn't disappoint, showcasing three characters that couldn't be more different from each other – joined by one friend in common, who has recently died right before the start of the novel. The characters all shone in different ways and if you start reading their part rolling your eyes at the them, by the end of their section you adore them. Really loved this and can't wait for his next novel!
Harry Potter and the Deathly Hallows by J.K. Rowling was part of Bethwyn's read-along, and I managed to catch up in order to finish in the planned month. I note last time I read this I gave it 4/5, and I think I honestly felt that at the time. Now, it really is amazing. Or maybe just because this time I didn't bother reading the epilogue. When I finally got to the end I did feel a smidge of need to keep reading just to have anything, everything, more! But holding back was the right decision.
A Gathering of Shadows by V. E. Schwab is one of my most anticipated books of the year, but then, anything by Schwab is. I received a preview back at the end of 2015 which allowed me the first 150 pages or so and just couldn't put it down. And now the rest is here! I re-read the first book as above at the start of the month, and then re-read the start of this one even though it was mostly fresh in my mind just because it's such a joy to read. Especially Lila's first chapter!
Throughout the book I just couldn't get over how epic it all was. I couldn't get over how much I so deeply adored each and every character, and I love what she did with the King (certainly not the easy road, throughout the whole arc) and just whoa. Whoa whoa whoa, I need the third book now just as desperately as I've ever needed the next Scott Lynch. This is a rare thing!
~
February was a strange month, where I both had a lot to do and at the same time, not very much. Health problems are once again at the forefront of life and stress reigns. Bring on March.